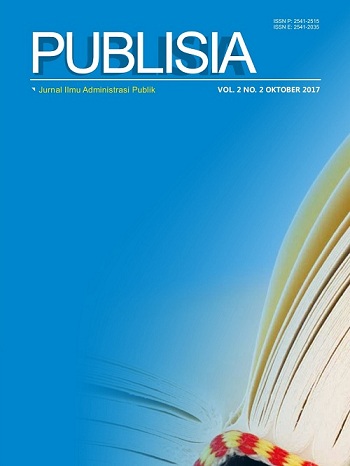 Etika Publik bagi Kepemimpinan Pemerintah Daerah
Abstract
Ethics has always been a part of human life in which ethics as a guide to judge the good of an action. Ethics is actually very close to one's life including public leaders. If the public leader always presents ethics in every action, then the public leader will be able to minimize actions that conflict with ethical values, including in cases of corruption. Ethical values that should be used as guidance for public leaders, especially the head of the region seems to lose its meaning when the head of the region committed ethical violations such as corruption cases. Therefore, it is important to understand that public ethics can fortify regional heads to keep acting in accordance with prevailing norms and not to deny public ethics. Public ethics that always be the basis of behavior of the head of the region will bring to the head of the region that is able to represent itself as a person who has personal integrity and can be an example for the bureaucratic apparatus and society in a region.
Keywords
Public Ethics, Local Government Leadership, Integrity
DOI:
https://doi.org/10.26905/pjiap.v2i2.1929
Refbacks
There are currently no refbacks.
---
Editorial Office
Publisia: Jurnal Ilmu Administrasi Publik
University of Merdeka Malang
---
Information:

| | |
| --- | --- |
| | Terusan Dieng Street 59, Malang City, East Java, Indonesia, 65146. |

| | |
| --- | --- |
| | publisia.jopad@unmer.ac.id |

| | |
| --- | --- |
|   | +62 823-3452-4818 |

 

Indexing:

| | | |
| --- | --- | --- |
|                           |                         | |
| | | |
| | |   |

Tools:

Supported By:

 
---
@2020 Copyright of PUBLISIA: Jurnal Ilmu Administrasi Publik ISSN 2541-2 515 (print), ISSN 2 541-2035 (online). PUBLISIA: Jurnal Ilmu Administrasi Publik is licensed under a Creative Commons Attribution 4.0 license