MENDAPATKAN WORD OF MOUTH IN SOCIAL MEDIA DAN LOYALITAS DENGAN DIGITAL CUSTOMER EXPERIENCE
Abstract
Konsep customer experience memang bukan hal baru dalam ilmu pemasaran, namun perlu dicermati kembali bahwa dewasa ini konsep bisnis mulai berubah, masuknya berbagai macam teknologi membuat perusahaan dan pemasar memikirkan kembali bagaimana membangun customer experience dalam dunia digital. Sehingga tujuan dari penelitian ini adalah mengetahui pengaruh digital customer experience berpengaruh terhadap kepuasan, loyalitas dan word of mouth di media sosial pada konsumen dalam generasi millennials. 200 Generasi millennials dipilih untuk menjadi responden dalam penelitian ini dikarenakan kelompok generasi inilah yang akan menjadi market yang cukup besar dalam industri di masa depan. Semua responden akan diberi kuesioner yang selanjutnya akan diolah menggunakan teknik analisis SEM dengan software Smart PLS 3. Hasil analisis dalam penelitian ini didapati bahwa digital customer experience memiliki pengaruh terhadap WOM in social media baik secara langsung maupun melalui customer satisfaction, digital customer experinence memiliki pengaruh terhadap customer loyalty melalui customer satisfaction dan digital customer experience tidak memiliki pengaruh langusung terhadap customer loyalty.
DOI:
https://doi.org/10.26905/jbm.v7i2.4150
Refbacks
There are currently no refbacks.
---
---
Jurnal Bisnis dan Manajemen
Faculty of Social and Political Science University of Merdeka Malang
---
---
Mailling Address:
Address: Terusan Dieng Street 62-64 Malang, Indonesia
Website: http://jurnal.unmer.ac.id/index.php/jbm
Email: jbm.unmermlg@unmer.ac.id
Phone: 081332010545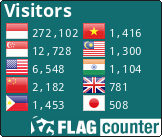 This work is licensed under a 
Creative Commons Attribution-ShareAlike 4.0 International License
.