Menilai Kepuasan Pelanggan Kopi Arabika Specialty PT. Oro Kopi Gayo Melalui Harga, Kualitas Pelayanan, Dan Citra Merek
Abstract
Penelitian ini bertujuan untukmengetahui pengaruh harga, kualitas pelayanan dan citra merek terhadap kepuasan pelanggan dengan populasi penelitian yang terdiri atas objek/subjek yang mempunyai kualitas dan karaktristik yang tidak terbatas (infinete) yang ditetapkan oleh peneliti untuk dipelajari dan ditarik kesimpulannya sebanyak 160 kuisioner. Penelitian ini menggunakan data primer dan sekunder, data ini di kumpulkan dan dianalisis menggunakan ibm spss 22.0 dan struktural equation modeling. Teknik  Teknik korelasi pearson product moment digunakan untuk menetapkan kekuatan dan signifikansi hubungan antara harga,kualitas pelayanan, citra merek dan kepuasan pelanggan perusahaan PT. Oro Kopi Gayo. Teknik analisi yang digunakan adalah struktural equation modeling dengan program Amos 22.0  dan hasil dari penelitian ini menunjukkan bahwa ada pengaruah dan hubungan antara harga, kualitas pelayanan dan citra merek terhadap kepuasan pelanggan perusahaan PT. Oro Kopi Gayo.
Keywords
harga, kualitas pelayanan, citra merek dan kepuasan konsumen
References
Aaker, David. (2012). Building strong brands. New York: The Free Press..
Abdullah, Thamrin Dan Francis Tantri. 2010 Manajemen Pemasaran, Jakarta : PT.Raja Grafindo Persada
Bellezza,S.,Keinan,A. (2014), Brand Tourist: Hownon Core Users Enhance The Brand Image By Eliciting Pride. Journal Of Consumer Research, 41(2),397-417.
Cengiz, Emrah. 2010. Measuring Customer Satisfaction: Must Or Not?. Journal Of Naval Science And Enginering, 6(2):76-88.
Coelho, P.S., & Henseler, J.(2012).Cerating Customer Loyalty Through Service Customization European Journalof Marketing, 46, 331-356
Ferrinadewi, Erna. 2008. Merek dan Psikologi Konsmen: Implikasi Pada Strategi Pemasaran. Edisi pertama. Yogyakarta: Graha Ilmu
Guzzo, R,2010. Customer Satsifactin In The Hotel Industry : A Case Study From Sicily,International Journal Of Marketing Studies, Vol.2.No.2.
Heryanto, Imam. 2015. Analisis Pengaruh Produk, Harga, Distribusi, dan Promosi terhadap Keputusan Pembelian serta Implikasinya pada Kepuasan Pelanggan. Jurnal Ekonomi, Bisnis & Entrepreneurship. Vol. 9 No. 2.
Ha, J. and Jang, S.C., 2010," Perceived Value, Satisfaction, and Behavioral Intention: Role of Familiarity in Korean Restaurants ", International Journal of Hospitality Management, Vol. 29, pp. 2-13.
Gronroos, C. (2001). The perceived service quality - a mistake?. Managing Service Quality, 11(3), 150-152.
Heung, V. C. S., & Gu, T. (2012). Influence of restaurant atmospheric on patron satisfaction and behavioral intentions. International Journal of Hospitality Management, 31, 1167 ±1177. Doi:10.1016/j.ijhm.2012.02. 004.
Hsieh, M. H. , Pan, S. L. , & Setiono, R. (2004). Product, corporate, and country-image dimensions and purchase behavior: a multicountry analysis. Journal of the Academy of Marketing Science, 32(3), 251±270
Irawan, handi, 2008, membedah strategi kepuasan konsumen, cetakan pertama : PT. Gramedia, Jakarta
Komalig, Anastasya L. 2013. Customer Relationship Management and the Effect of Promotion on Debtor Satisfaction at PT. Bank of North Sulawesi, Manado's Calaca Branch. EMBA Journal vol.1 no.4 December 2013.
Kotler, Philip., dan Kevin Lane Keller. 2009. Manajemen Pemasaran. Edisi 13. Jilid 2. Alih bahasa: Bob Sabran. Jakarta : Penerbit Erlangga
Kotler, Philip. 2008. Manajemen Pemasaran Edisi 12 Jilid 2. Jakarta: Indeks
Lemmeryinen,a, dimitrovski,d, nieminen, l., pohjola, t (2016), cruise destination brand awarenes as a moderator in the relationship of motivation satisfaction tourism review, 71(4),245-258.
Riggs, H.E.(2001), The Price Of Perception The New York Times.
Renneboog, L.,Spaenjers, C.(2013), Buying Beaty: About Prices Dan Return In The Art Market. Management Science, 59(1),36-53
Rondonuwu, Priscilia D. 2013. Kualitas Produk, Harga dan Kualitas Layanan Mempengaruhi Kepuasan Pelanggan Pengguna Mobil Nissan March di PT. Wahana Wirawan Manado. Jurnal EMBA vol.1 no.4 Desember 2013.
Rizan, M.,Warokka, A., Listyawati, D (2014), Relationship Marketing And Customer Loyalty : Are Customer Satisfaction And Customer Trust Really Used As Intervening Variables ? Journal Of Marketing Research And Case Studies, 2014.1-12.
SU, J., TONG, X.(2015), BRAND PERSONALITY AND BRAND EQUITY : EVIDENCE FROM THE SPORT SWEAR INDUSTRY. JOURNAL OF PRODUCT AND BRAND MANAGEMENT, 24(2), 124-133
Sang HK (2009). The influence of emotional intelligence on salesperson behavior and perceptions of customer service quality. Afr. J. Bus. Manage., 4 (11): 2343-2353.
Suyanto,M. 2007. Marketing Strategy. Andi offset, Yogyakarta.
Sangadji, Etta Mamang dan Sopiah, 2013. Perilaku Konsumen. Yogyakarta : Andi Offset
Schiffman dan Kanuk. 2008. Perilaku Konsumen. Jakarta: Indeks.
Suryani, Tatik 2013. Perilaku Konsumen di Era Internet. Implikasinya pada Strategi Pemasaran. Edisi Pertama. Cetakan Pertama. Graha Ilmu. Yogyakarta.
Suryati, L., Krisna, N.L. (2015), Determinan Kepuasan Pelanggan dan Implikasinya Terhadap Loyalitas Pelanggan (Studi Empiris Pelanggan Otomotif di Medan). Jurnal Internasional Bisnis Terapan dan Penelitian Ekonomi, 13 (7), 5045-5066
Sekarang, U. (2000). Metode Penelitian untuk Bisnis: Pendekatan Membangun Keterampilan. New York: John Wiley & Sons.
Tjiptono, Fandy. 2011. Strategi Bisnis Pemasaran. Yogyakarta: Andi
Tjiptono Fandy, 2015, Strategi Pemasaran, Edisi 4, Andi, Yogyakarta
Weenas, Jackson R.S. 2013. Kualitas Produk, Harga, Promosi, dan Kualitas Layanan Mempengaruhi Keputusan Pembelian Spring bed comporta. Jurnal EMBA vol.1 no.4 Desember 2013.
Xia, Wang., Jie, Zhang., Chaolin, G & Feng, Zhen. (2009). Examining Antecedents and Consequences of Tourist Satisfaction: A Structural Modeling Approach. Tsinghua Science and Technology. 14, No. 3. 397-406.
Yu, Yi-Ting and Dean, Alison (2001), "The contribution of emotional satisfaction to consumer loyalty," International Journal ofService Industry Management, Vol. 12 No. 3/4, pp. 234-250.
Yang Yu Ren (2006). The research of the server industry brand image. The Fu Ren University. Unpublished Master's thesis.
Zhang, X Dan Tang, Y.,2006. Customer Understand E-Service Quality In Online Shopping. Master's Thesis, Marketing Of The Lulea University Of Technologi
Zhang, Y.(2015), The Impact Of Brand Image On Consumer Behavior. A Literature Review. Open Journal Of Busines And Management. 3 (1), 58-62)..
DOI:
https://doi.org/10.26905/jbm.v7i2.4701
Refbacks
There are currently no refbacks.
---
---
Jurnal Bisnis dan Manajemen
Faculty of Social and Political Science University of Merdeka Malang
---
---
Mailling Address:
Address: Terusan Dieng Street 62-64 Malang, Indonesia
Website: http://jurnal.unmer.ac.id/index.php/jbm
Email: jbm.unmermlg@unmer.ac.id
Phone: 081332010545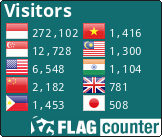 This work is licensed under a 
Creative Commons Attribution-ShareAlike 4.0 International License
.