PENGARUH PELATIHAN DAN PENGEMBANGAN SUMBER DAYA MANUSIA DALAM RANGKA MENINGKATKAN SEMANGAT KERJA DAN KINERJA KARYAWAN (Studi di SKM Unit V PT. Gudang Garam,Tbk Kediri)
Abstract
This study aims to analyze the influence of the training, human resource development, employee morale, and employee performance through a positivist approach. The population is employees SKM (Sigaret Kretek Mesin) Unit.V PT. Gudang Garam, Tbk with a sample of 100 employees who have represented proportionately from each part of the field of production, quality control, and PPIC. Engineering analysis using Path Analysis tool. The results showed that the presence of training and human resource development effect on employee morale, meaning that by implementing training and human resources development will foster confidence in employees that the company is really a organization which not only pursue profits, employees see that the company has been paying attention. Lack of attention given to the company in the form of training and human resource development have had an impact on increasing employee morale. Trainings held company proved a positive response. This proves that the employees who attended training was getting attention from the company, which employees feel that the company implemented the training of employees looking into the company's assets. In addition, employees also felt that his presence in the company not merely as workers, but employees assess that the company also has to pay attention to the interests of the employees concerned. The result of the analysis showed that the effect on employee morale employee performance. It shows that with better morale, the employees are able to carry out tasks and jobs with better anyway.
Keywords
Training, HR Development, Employee Enthusiasm, Employee Performance, SKM Unit.V, PT.Gudang Garam, Tbk.
DOI:
https://doi.org/10.26905/jbm.v3i1.71
Refbacks
There are currently no refbacks.
---
---
Jurnal Bisnis dan Manajemen
Faculty of Social and Political Science University of Merdeka Malang
---
---
Mailling Address:
Address: Terusan Dieng Street 62-64 Malang, Indonesia
Website: http://jurnal.unmer.ac.id/index.php/jbm
Email: jbm.unmermlg@unmer.ac.id
Phone: 081332010545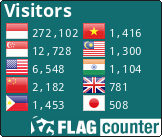 This work is licensed under a 
Creative Commons Attribution-ShareAlike 4.0 International License
.